FOCC Annual General Meeting - Tuesday 21st March 5pm at St Saviours Church
Friends of Christ Church
This is where you can find us on social media......
Follow @school_focc on twitter or,
Friends of Christ Church, Chadderton on Facebook for updates on events.
Email schoolfocc@gmail.com if you have any fundraising ideas
or anything else you would like to share with us
About Us
We have an active school support association organised by an enthusiastic group of parents. Friends of Christ Church runs a wide variety of fund raising events such as end of term discos, fashion nights, Christmas pantomime visits, family nights and many more activities to further improve our school and to help bring our community together. We raised over £4000 to support our children's learning in the last year! New parents are always welcome in the group; whatever your skills or talents, we need you! Please contact school if you would like to get involved in this worthwhile activity.
Please visit this page regularly as we will publish advance details of all of our activities here.
PTA Constitution
As part of our continued growth, and in order to grow further, we are adopting a new constitution. We have recently signed up to PTA UK which will help structure the group and form key roles within it. At the upcoming AGM we will be nominating and selecting the people to fill these vital roles. Please take time to read the constitution and roles below. Thank you.
Fundraising update
This year could be an exciting year for FOCC, we have lots of new members who are bringing some new and radical ideas to the table. These ideas along with the passion and enthusiasm from the new members could make this one of the most successful years.
Friends of Christ Church provided £8078.43 of funds for the redevelopment of the infant outdoor learning area. It is now a fantastic learning environment which will help develop physical, social and emotional skills. We just have a couple of small things left to do to complete it then we'll let you all have a look with some amazing photos.
Volunteers
Whether you attend every meeting or simply help out once or twice throughout the year, all help is very welcome. We always need volunteers - no task is too small! E-mail schoolfocc@gmail.com to add yourself to our volunteer distribution list.
From all of us at the PTA, we look forward to another great year of community, fundraising and fun!
Below and right are just a couple of pictures and videos of the skills the children have learnt on the AirTrack since September.
Our defibrillator in a prominent place just in case of emergency. Lets hope it never gets used.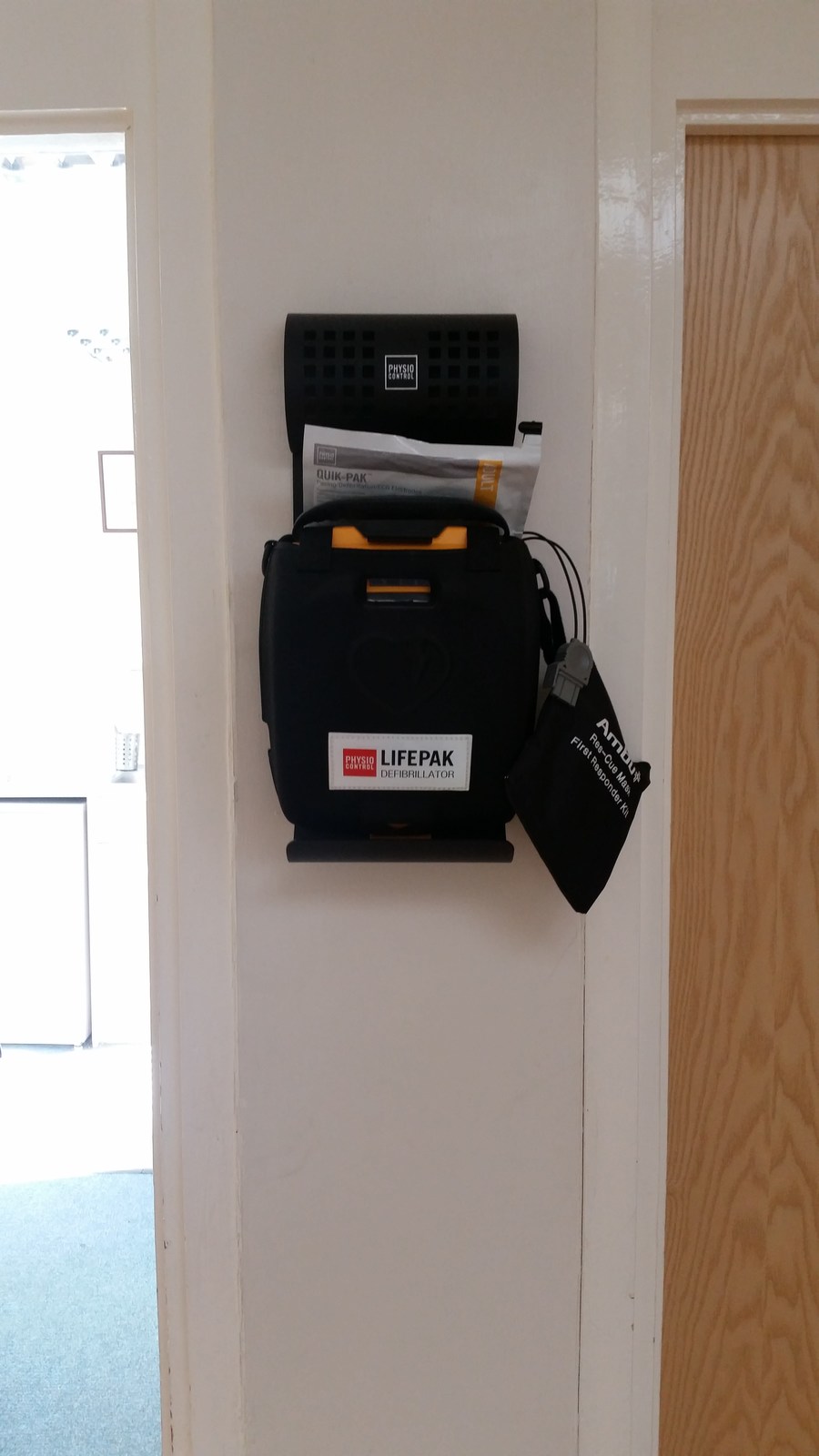 School Disco dates:
Thursday 20th October
Thursday 15th December
Thursday 9th February
Thursday 6th April
Thursday 25th May
Infant Disco's are 5.45 - 6.45pm
Junior Disco's are 7 - 8pm
2015-16 Money raised and spent:
October disco: £330
Christmas Disco: £355
Sponsor Day: £1989.83
Christmas Fair: £1007
Summer Fair: £1038
Dates for the diary:
Summer Fair - 23rd June 2017 3.30pm