Christ Church Eco Ethos
Here at Christ Church C of E we pride ourselves on being an Eco Legacy Ambassador School, the highest honour awarded to schools, and one of only a handful in the country, for the last 4 years. We have held a Green Flag status for 15 years. As an Eco Ambassador School we understand the importance of empowering our pupils to know that they can help make the changes our world needs to be more sustainable. Eco-schools Ambassadors are leaders in extending the ethos of Eco-schools far beyond the school gates, interacting with the local community, nationally with the Eco-schools network, along with sharing knowledge, information and advice with other schools.
The pupils at Christ Church receive weekly lessons specifically dedicated to learning about Eco elements, from bio diversity to the importance of recycling.
How we are actively promoting British Values
It is expected that pupils should understand that while different people may hold different views about what is 'right' and 'wrong', all people living in England are subject to its law. Our ethos and teaching supports that of the English Civil and Criminal Law, and we do not teach anything that undermines it. We take care when teaching the difference between state and religious laws, however, pupils are made aware of the differences between the law of the land and religious laws.
We think that citizenship at Christ Church is about giving children the skills to become responsible individuals and independent thinkers. They should be able to make informed judgments that will enhance their quality of life and that of others, while, at all time, showing respect for themselves and other people, irrespective of gender, culture, religion and ethnicity.
British Values
enable students to develop their self-knowledge, self-esteem, and self-confidence;

enable students to distinguish right from wrong and to respect the civil and criminal law of England;

encourage students to accept responsibility for their behaviour, show initiative, and to understand how they can contribute positively to the lives of those living and working in the locality of the school and to society more widely;

enable students to acquire a broad general knowledge of and respect for public situations and services in England;

further tolerance and harmony between different cultural traditions by enabling students to acquire an appreciation of and respect of their own and other cultures;

encourage respect for other people; and

encourage respect for democracy and support for participation in the democratic processes, including respect for the basis on which the law is made and applied in England.
Intended outcomes for pupils
an understanding of how citizens can influence decision making through the democratic process;

an understanding that the freedom to choose and hold other faiths and beliefs is protected by law;

an acceptance that other people having different faiths or beliefs to oneself (or having none) should be accepted and tolerated, and should not be the cause of prejudicial or discriminatory behaviour.
Pupil Voice and School Council
We believe every child should have an equal voice. We do this on a weekly basis in pupil voice time, and we also produce a pupil voice questionnaire. We have a very active school council made up of children that have been elected by their fellow pupils after producing a manifesto. We have noticed that children sitting on the Council have become more confident and articulate because they have been elected by their own classmates. The Council also interview members of staff about their role on a curriculum subject. The answers are then fed back to Mrs Payton in a School Council Meeting.
Ecology and the Environment Assembly 27.1.16
On Wednesday 27th Jan we had an assembly delivered by the Highways Agency. They taught us how they protect wildlife when they build new roads and motorways in England. It was interesting and surprising how much they have to do to accommodate the wildlife in to building projects.
They also donated a bug hotel to the infants to encourage small insects to make our school grounds their home.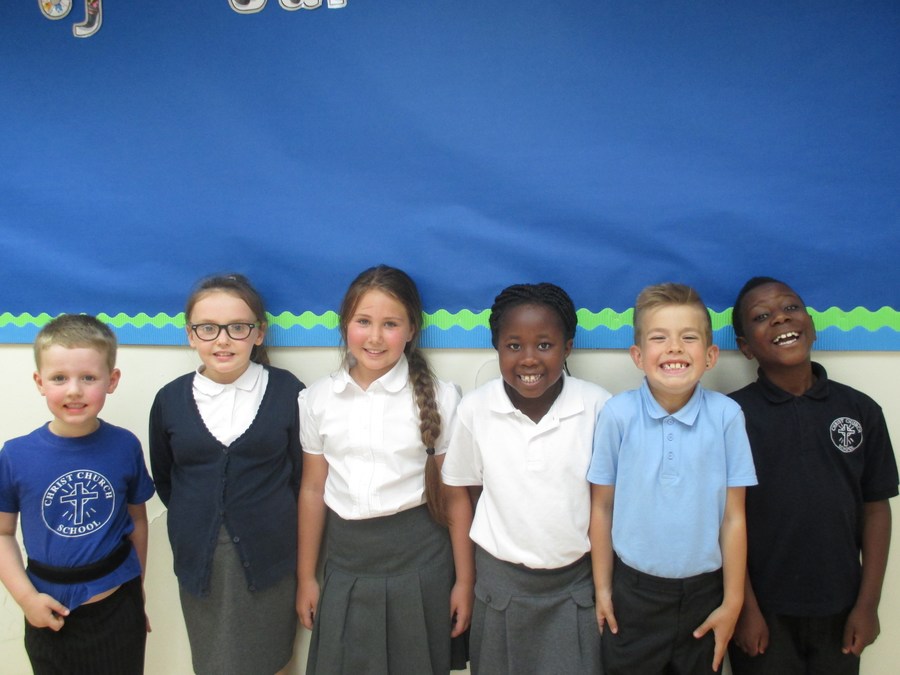 Come and meet our 2015/2016 School Councillors and Eco Warriors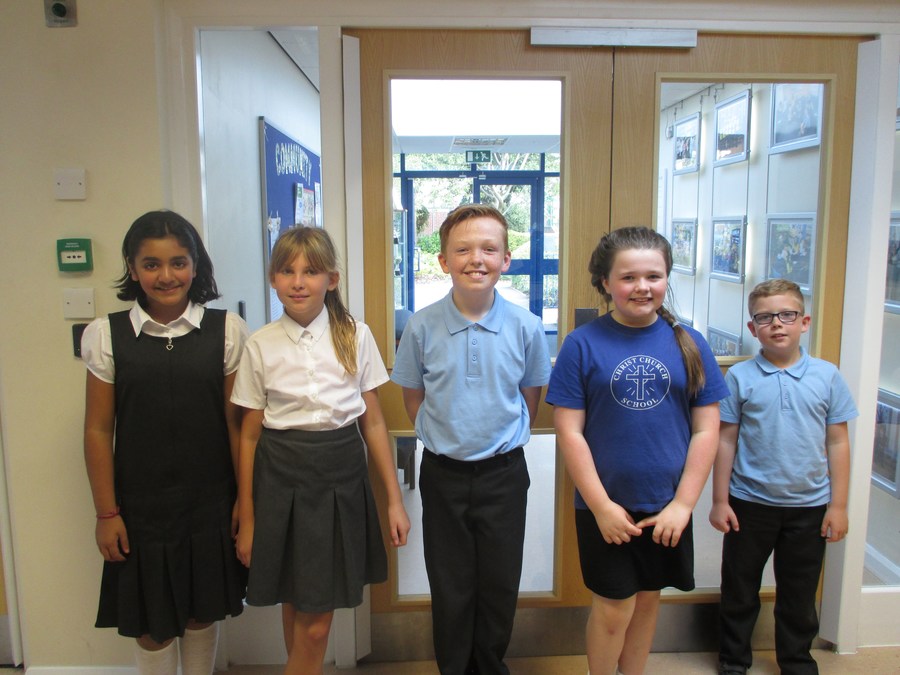 Current News
Congratulations to all our children and families who have helped us to achieve our Enhanced Healthy Schools award. We earned this award by making sure our children understand the importance of living a healthy lifestyle. We do this by making sure our children buy a healthy snack from our school tuck shop at break time, Promoting the need for a healthy packed lunch and teaching Weekly Eco lessons about how to keep themselves happy and healthy.
Please see comments from our Councillors below
Comments (1)
Show Comments
School Council
(a couple of years ago)
Hi this is Libby Nield, a Year 5 learning Councillor at Christ Church School. Part of my job as a learning councillor is that I interview teachers for their role in the school. Recently I interviewed higher level teaching assistant Mrs McGrath. Here are some of the things I asked her. "How do you think children learn best?" And she replied "I think all children learn differently but children learn best when they have hands on experiences." Then I asked her "When you are asked to teach a class what is your favourite subject to teach?" and she replied "I love eco because she has been doing it for years but she also like .P.E." A few days later I met with Mrs Payton (the head teacher) And told her what Mrs McGrath said. Mrs Payton gave me feedback to give to the children which was "Well done to all the people that have their pens back and keep working". We regularly have pupils voice, here are some of the notices we gave them: Specials will be on tuck if all tuck is sold; we have a new bell for on tuck; Children are not aloud to go in the forest without an adult you are not aloud to go on the field before school starts or after it finishes; Thank you for reading and please think about the things I have put.
St Johns Ambulance - Big First Aid Lesson
On Friday 12th June the whole of the Juniors took part in the BFAL. It was a live stream from St Johns that taught the children some essential first aid tips. They also learnt how to respond to situations they may find themselves in around school.
Health and Safety Officers
Meet our new health and safety officers, Bradley O'Connor and Abbie Charlesworth. Our job is to make sure we have a safe environment for children and staff. Once a week we walk around school with our site manager, Mr Carroll. We write down any hazards or faults that could be dangerous. We report back what we have found to our health and safety meetings.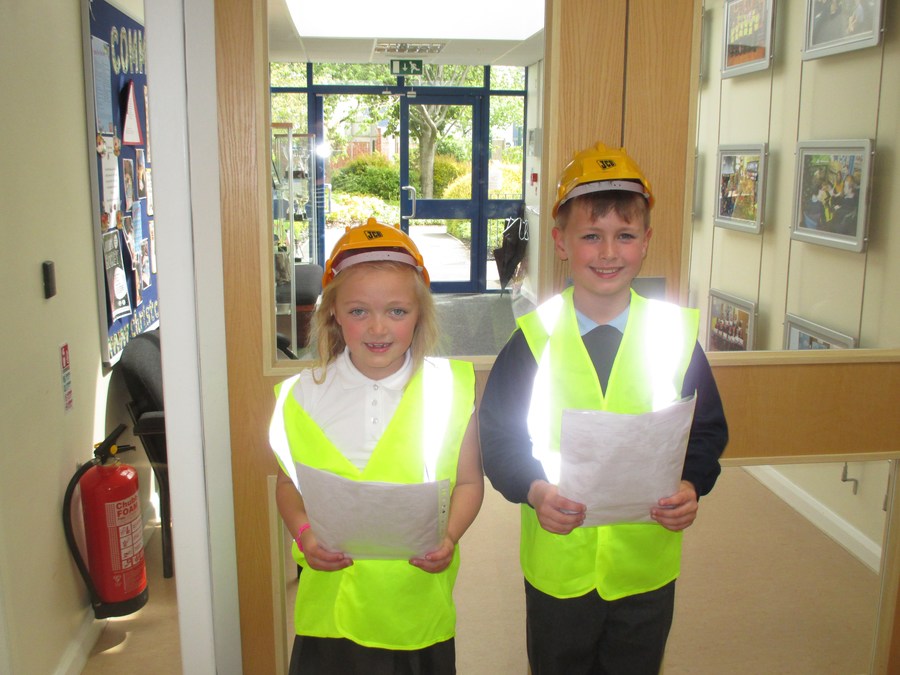 BBC Philharmonic and the Imperial War Museum
We took a group of pupils to see the BBC Philharmonic Orchestra and over to the Imperial War Museum as part of our British Citizen lessons. The orchestra were amazing and inspired lots of children to try an instrument. The war museum, with the presentation they gave, really made the children think about what it was the men and women fought for all them years ago, and still fight for today.
Greater Manchester Waste - Bike repairs
Sponsor A Guide Dog
We are very pleased to be raising money to sponsor a group of guide dog puppies. We will be having a non uniform day on Thursday 23rd October for a £1 donation. Today we had some special visitors to come and talk about what it takes to train a guide dog puppy, and also what its like to live with and use a guide dog.
Recycled School Logo
All children collected bottle tops to produce our school logo on canvas. Children spent time gluing the tops guided by the design of our logo.