Massive well done to our infant Gymnasts who are Greater Manchester Champions!!!!!!
P.E and Sport Events
Follow @christchurchPE on twitter for latest results and info
PE in Christ Church is embedded throughout the curriculum. Below is a presentation to show the impact that PE is having throughout school and the steps we take as a team to provide opportunities for all our children.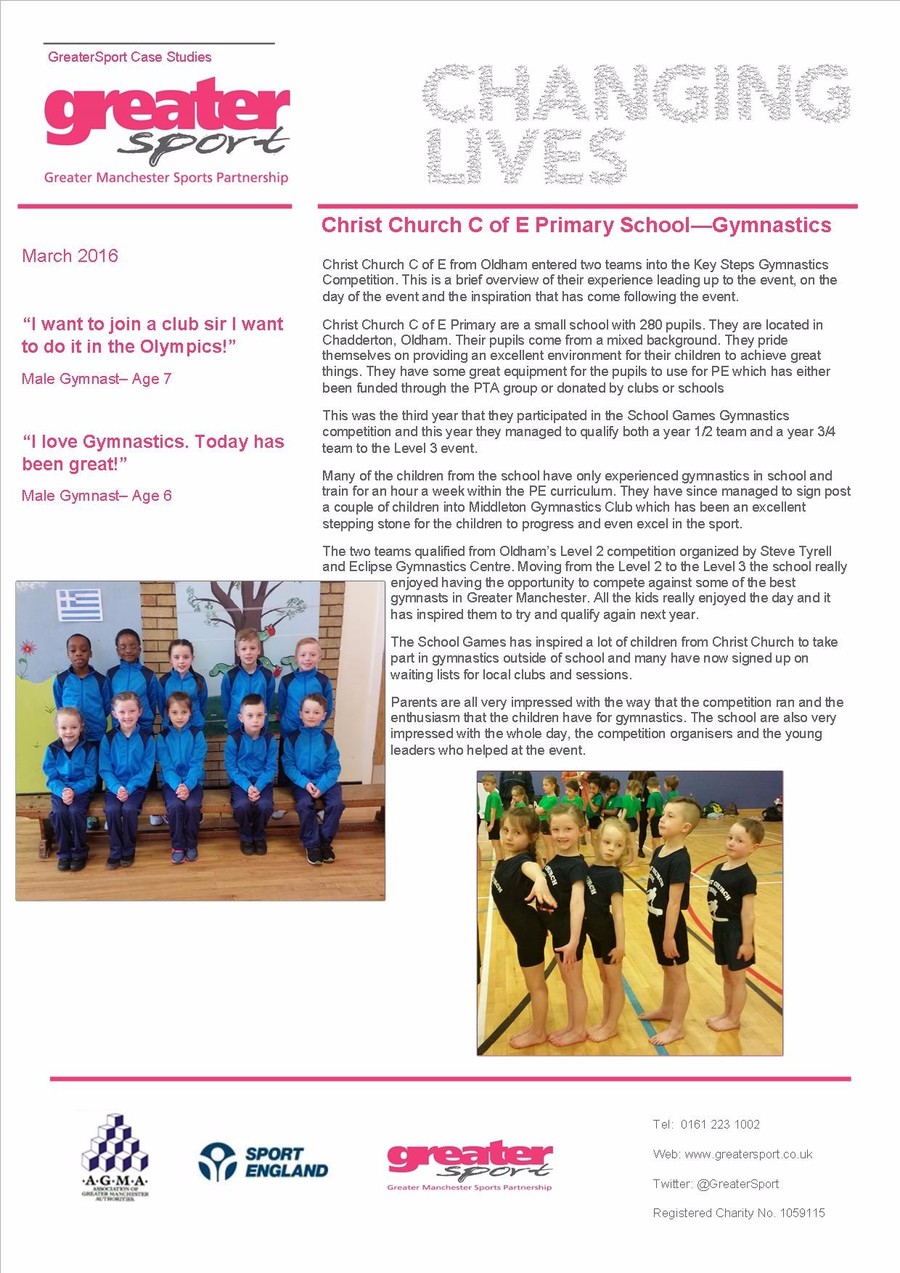 We have had a great start to the term. We have some budding dancers in our school right from reception up to Year 6. We are learning all different types of dance. Below are the tracks the children are using to dance to. Maybe they can show you at home.
Awards 4 All - Boxing session
In April 2016 we were over the moon to be granted an Awards for All Lottery Grant. The grant will be used to increase sporting provision and provide some different and interesting sessions. The sessions will run from June 2016 till May 2017.
As you can see from the pictures below the children (and Mrs McGrath) loved the first boxing session with Darren 'Stubbsy' Stubbs. They looked at fitness and some boxing technique, as well as discipline.
Our gymnasts are really challenging themselves with our new air track. Lots of new skills... Bellow you will see the infants demonstrating round-offs and Estelle has mastered her round off flick! Fantastic work guys keep it up!!!!
Football
The school are part of the Chadderton and Failsworth Schools football league. We play every Thursday at Chapel Road from November to February, times from 4 till 5pm. People are more than welcome to come and support the team.
The boys have been performing well each week in some testing conditions. We have had some superb individual displays from new players which complement the existing players we have.
Cricket
The school take part in the Oldham Under 11's Indoor Cricket league throughout the winter. It is a 6-a-side competition in which Cricket clubs from all over Oldham take part in. We are the only school in the league. The games are played on Friday evenings at Oldham Sports Centre or the Millennium Centre. Our team have put in some fantastic performances to date with big improvements visible in both the bowling and fielding.
All the children that represented school in the cricket league did us proud, they performed to the best of their abilities every week and showed excellent team work and team spirit. Some have gone on to train and play for Cricket Clubs outside of school which is a great achievement.